"It's essential to make the decision and commit to having a
life. Don't wait for a brush with death to decide. My friend
needed a mid-30s heart attack to slow him down"
-Stever Robbins
Give Me Two Minutes, and I'll Give You Your Sanity

You've trusted the Get-It-Done Guy to help you organize, optimize and minimize your work. You know that, with a careful investment of time and effort, you can improve your life. But sometimes it seems like doing good work just isn't enough – that you're getting caught in a cycle of overwork, exaustion, and stress that won't let go.
The bad news is that nobody else is going to help you. Your well-being is your responsibility, and nobody else at your organization is laying awake at night, wondering whether you really have the emotional willpower to make it to retirement. Things will not magically get better – you're going to have to take some action.
Learn the Secrets of the Stress-Free Superstars

Fortunately, the good news also involves you. You already know how to apply your energy to working more productively. When you learn how to apply that very same energy to working with sanity, you will become a Stree-Free Superstar.
Learn why working less will save your company time
Learn how to reduce your email overload, so you can do the work you're being paid for
Relax when you're at home. Isn't that what it's all about?
I'm offering Balancing Work and Sanity for free, because everyone deserves their sanity. That means that your next steps couldn't be simpler – download the ebook, set aside some time to read it (Don't have time, you say? I think YOU need this book more than anyone!) and start building your stress-free life.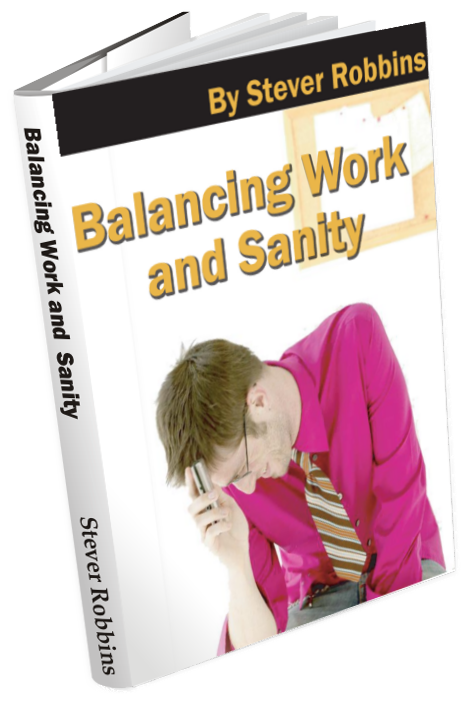 And don't worry, Stever respects your privacy
and will never share your email address.